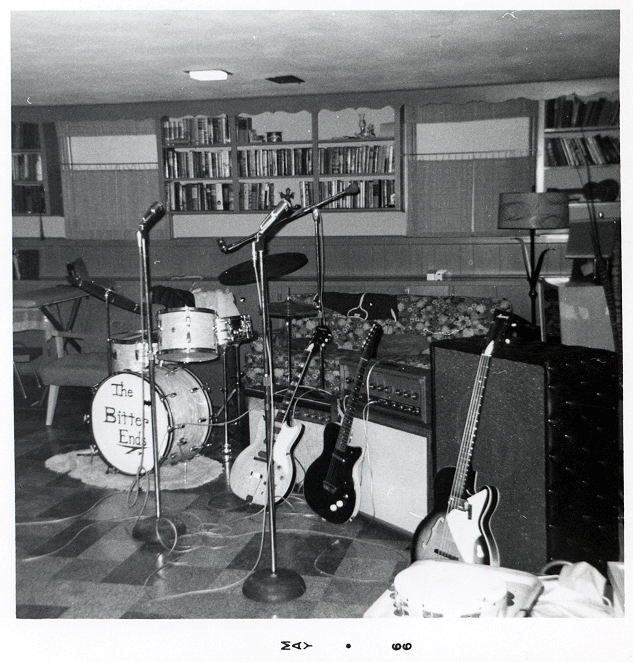 We practiced in Scott Barnes home in the "family room." Scott had Ludwig drums as I recall. Note the sizzlers in the ride cymbal. My 3-pickup Kay/Silvertone is leaning against my Silvertone Twin-12 combo amp, one of the most bad-assed amps ever made. Yes... I wish I'd kept it. Larry Frankin's DanElectro is the same guitar I'm playing in The Coachmen photo. Bill Russell played a Harmony bass. The cabinet has one 18 inch speaker, I think. I don't recall what his amplification was. We had some sort of PA and were no longer plugging the ElectroVoice 664's into our guitar amps.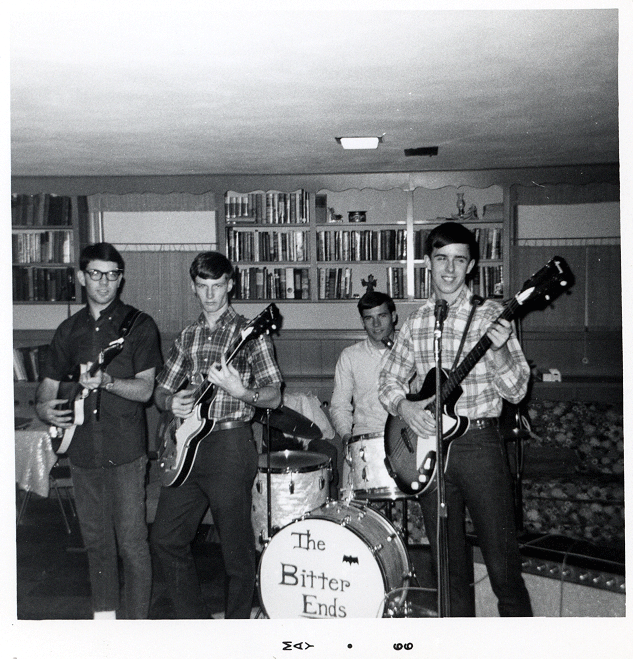 The Bitter Ends, left to right: Larry Franklin, Jim Stringer, Scott Barnes and Bill Russell. I'm doing my best "Blue Steel", but everyone else seems like a real person.
The Bitter Ends serenade Scott's neighborhood. What you can't see is the PA, which was a couple of Atlas "Police Siren" Horns! I imagine our vocals could be heard for MILES. In fact, the day this was shot, a fellow came down from the apartments that were on a bluff behind Scott's house. He liked our band and asked us to write and record a couple of jingles for his ad agency. The man's name was Marvin Fremerman... his daughter, Elana, is the fiddle player for Hot Club of Cowtown. You'll notice I'm adjusting the controls on a guitar amp... what's significant is that it's Larry's amp, not mine!